Peace Pieces:
Reflections on Violence and Conflict Resolution
This is a collection of poems, art works, and prose about peace and conflict resolution. In 1996 I started sensing the need to write about militarism, propaganda, and prejudice while working on Let the waters be my witness, a collection of environmental poetry, art, and dialogs. It is more than a coincidence that the Bosnia-Serbia conflict moved towards resolution while the Hutu-Tutsi conflict heated up at the same time. It was also a year that the U.S. spent over 300 billion dollars on its military and over 40 thousand died in armed conflicts.

Peace Pieces investigates militarism and violence and suggests some alternatives to them. At times satiric and perhaps rabid, these works explore the boundaries between polemic, poetry, and trash. Enjoy the lines, but also pause to consider, "What am I actually doing to promote peace?" If the answer is "not much" than reflect on concrete things what you might begin to do.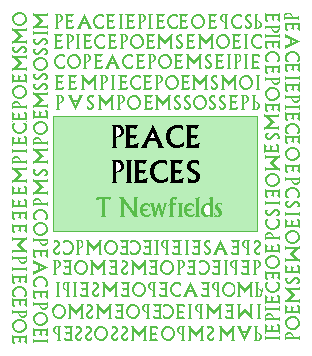 Updated 1 Jun 2019 Yokohama, Japan
www.tnewfields.info/PeacePoems/