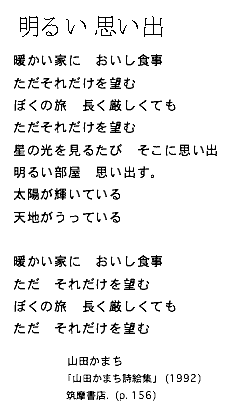 Delicious food, a warm home –
is there anything better to yearn for?

Even if the path ahead seems tough –
what else shall I desire?

Remembering radiant stars
this room seems to glimmer.

Sunlight sparkles brilliantly
heaven and earth both sing.

A warm home, delicious food –
what more shall I yearn for?

The path ahead seems all uphill, yet
what else is worth aspiring for?


– Kamachi Yamada,
from Yamada Kamachi Shi E Shuu
published by Takuma Shoten
(1992: 156)
[free translation by T Newfields, 2018]
---